Description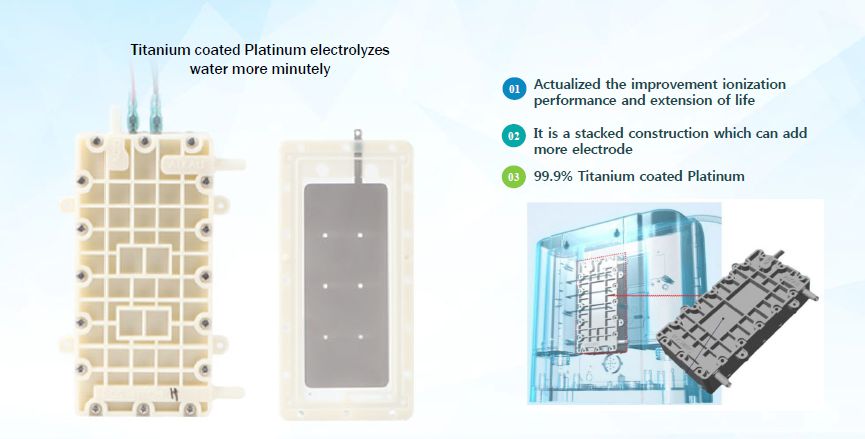 NEC 901 / JAY 201: Practical and beneficial benefits
Do you like high-end, sustainable, design and durable products? You will be served with the NEC 901 / JAY 201 counter ionizer:
16 layers double filtration
7-inch touch LCD screen
Computer-controlled electrolysis system
9 high quality titanium plates, covered with platinum
5 alkaline levels available (maximum pH of 11)
4 acid levels available (acid water can be used as an antiseptic or for your skin care)
Turbo function, allowing alkaline and acid water to be poured simultaneously (perfect for cooking, cleaning, sterilization and disinfection)
Water flow of up to 3 liters per minute
Advanced internal microprocessor technology
Zen design
Molecular hydrogen level between 1200 and 1450 ppb
This model replace the JAY 101 water ionizer
The NEC 901 / JAY 201, has a brand new SMPS electronic transformer, for an increased level of performance!
Why opt for an countertop water ionizer?
Countertop water ionizers install in two steps, three movements on all types of faucets and can be easily transported wherever you go. They are easily installed on all types of standard faucets (standard faucet adaptor included).
Ideal for enjoying pure and invigorating water, at home as elsewhere.
Additional Information – NEC 901 / JAY 201
2 filters included (16 layers)
Filter life: Filter 1 (4000 litres) / Filter 2 (8000 litres)
Lifespan of the ionizer displayed on the LCD screen
Spoken Languages: English, Korean, Chinese, German, Russian and Italian
Weight: 9 kg (20 pounds)
Dimensions: 46 – 42 – 20.5 cm
Brand: EOS Hitech
Eligible water pressure: 1.5 – 5.0 kgf/cm2
Operating temperature: 5 – 40 degrees Celsius
Production capacity: 1.1 – 3.5l/min
Automatic cleaning time: about 30 seconds
Filtering materials: sediment filter, activated charcoal granulaire, activated charcoal containing silver, ceramics.
Molecular hydrogen: 1200 to 1450 ppb
For more information on Aqualife products and their benefits, visit:
Visit our Facebook page to learn more about our products, how they work and their benefits.
Discover other EOS Hitech products