AQUALIFE
ALKALINE WATER
DEMYSTIFICATION
Do you really know what alkaline water is? And most importantly, do you know how to differentiate it from
alkaline ionized water
?
ALKALINE WATER OR ALKALINE IONIZED WATER?
Despite their similarities, these two types of water have a significant difference, and you have to understand it to achieve your health goals.
In addition, there are also some myths about alkaline water and alkaline ionized water, and the facts need to be rectified.
Ionized, alkaline, antioxidant and invigorating water!
It is an artificial water, since it contains synthetic minerals to recreate the beneficial effects of alkaline ionized water. Such chemical additives are not present in alkaline ionized water.
In addition, alkaline water has only a very limited effect on the acidity of the body since it contains no negative and antioxidant ion (ORP -).
Finally, bottled alkaline water is in no way effective for health, as the hydrogen it contains dissolves within 24 to 48 hours. This is why it is important to ionize your water with an ionizer and consume it immediately afterwards.
The process of ionizing water by electrolysis is the best way to enjoy water enriched with natural minerals and free of any oxidation.
Alkaline ionized water is induced by an electrical current, via an all natural process. It can be compared to the natural water from glaciers, which naturally ionizes after a few days.
Therfore, alkaline ionized water is an economical and ecological solution for your health. No wonder the German specialist Karl H. Asenbaum describes this water as a "fountain of youth"!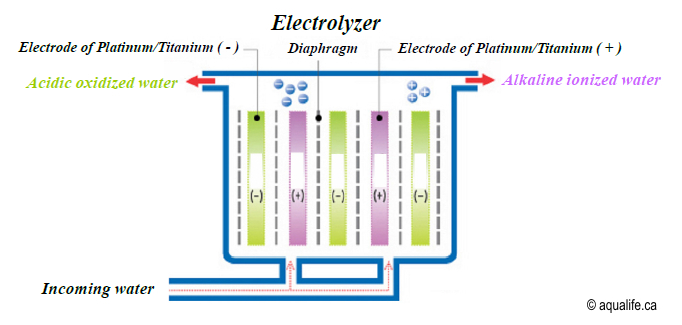 "We love to drink this more alkaline and oxygenated water for its many benefits."
-Jacinthe Leblanc – Boisbriand, Québec, Canada
We moved and changed our counter ionizer for a more efficient model, the faucet model (under sink). Thank you Aqualife for the super-fast and free installation service.
INCREASING HYDROGEN IN YOUR WATER
an asset to discover for your health
Alkaline ionized water is full of hydrogen, which transforms toxic elements into water and consequently fights the harmful effects of oxidation. In fact, many scientific studies have demonstrated the health benefits of hydrogenated water.
Here are some interesting links to learn more:
There are also several other benefits of increasing hydrogen in your water:
Improving concentration and athletic performance
Achieving healthy weight
Purifying cells
Regulating metabolism
However, keep in mind that ionized water is not a substitute for the work of a health professional. with so many health and wellness benefits, no wonder alkaline ionized water is recommended for so many people, like children and the elderly!
Ionized, alkaline, antioxidant and invigorating water!
One glass at a time
The next time you hear about alkaline water, you will now be able to distinguish it from alkaline ionized water. Most importantly, you'll know why it's best to achieve your health goals.
Recall the main benefits of alkaline ionized water:
It is natural (devoid of any artificial additives)
It contains negative ions and antioxidants
It is ecological and economical
However, it is not recommended to drink this water when taking medication or when you eat. On the other hand, you can easily cook with alkaline ionized water!
Finally, this water is suitable for many individuals:
Athletes (including lactic acid, which accumulates in the body after physical activity)
Pregnant women (it is even recommended during pregnancy)
People who are sick or suffering from pain
The elderly
Children and teens
Discover our different water ionizer models and enjoy the power of electrolysis on your health!
Alkaline ionized water products designed for your reality!
For more than 10 years, Aqualife has brought you the benefits of alkaline ionized water with a wide selection of ionizers, filters and pH testers.
Free installation, even on weekends
Cheapest prices on the market
Same day delivery
Telephone service available 7 days a week
Advisory service on the use of your products
Filter #1 for
Lydia 8080
, Lydia 8090,
Genesis 1
(EOS Hitech) Good for 4000 liters. These dynamic filters have been designed for improved water purification capabilities removing 99% of all contaminants. Infused with Silica minerals for anti-aging, detoxification, disease prevention. Silver is impregnated into the Granulated Activated Charcoal to ensure that bacteria does not grow. Activated Carbon Fiber is a highly porous material; therefore, it has an extremely high surface area for contaminant absorption. The equivalent surface area of one pound of Activated Carbon is approximately 150 acres (over 3 football fields)! Under a scanning electron microscope, the Activated Carbon looks like a porous bath sponge. Activated Carbon Fiber is one of the besNt tools that can be used to reduce risks to human health.
IN THE SAME SECTION
Majority have suffered alteration in some form, by injected humour, or randomised words which don't look even slightly believable.
REGISTRATION TO
NEWSLETTER
Stay in touch with our latest promotions.
Please note that Aqualife has not conducted a specific scientific study for the facts set out on this page. The information on the site is taken from the web. All information on this website is for reference this and for educational purposes only. Purified water (alkaline ionized or acidic) is not a treatment for a medical condition. If you have a medical condition, please consult a health care professional for specific medical advice. Alkaline water is simply purified and restructured from tap water (without chemicals or acid molecules). It does not contain any drug substances to cure your illnesses. Ionized water, such as fresh air or good food, helps your general health, but is not a substitute for medical treatment. See your doctor if you are in doubt.
Have questions about our Aqualife or our products?
Contact