AQUALIFE
IONIZATION
OF WATER
Water ionization is made possible by electrolysis. This is an important process which aims to increase the pH of the water in order to make it alkaline and therefore eliminate its acidity.
IONIZATION OF WATER (WATER ELECTROLYSIS)
Water electrolysis creates negative ions that prevent the oxidation of cells and promote the proper balance of the body.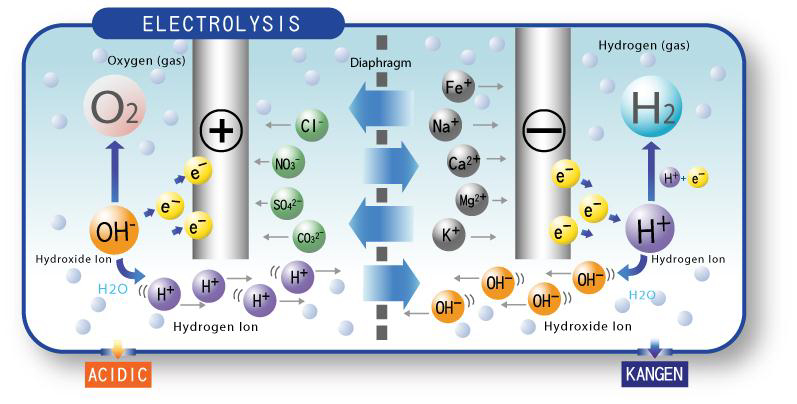 It is through electrolysis that you can transform the neutral water of the faucet into alkaline ionized water. Water ionization occurs when the water molecule is separated into hydrogen and oxygen. This process is greatly facilitated by a water ionizer, a device that allows you to enjoy alkaline, invigorating and antioxidant water!
Here are some health benefits to ionize your water by electrolysis:
Detoxify your cells
Better hydrate yourself
Enjoying a higher level of energy
Improve your athletic performance
Promoting weight loss
However, it should be noted that water ionization does not replace the doctor. It is therefore important to consult a health care professional in case of illness
Drinking alkaline ionized water is a great way to maximize good results!
"We love to drink this more alkaline and oxygenated water for its many benefits."
-Jacinthe Leblanc –  Boisbriand, Québec, Canada
We moved and changed our counter ionizer for a more efficient model, the faucet model (under sink). Thank you Aqualife for the super-fast and free installation service.
ELECTROLYSIS OF WATER
4 properties important for your health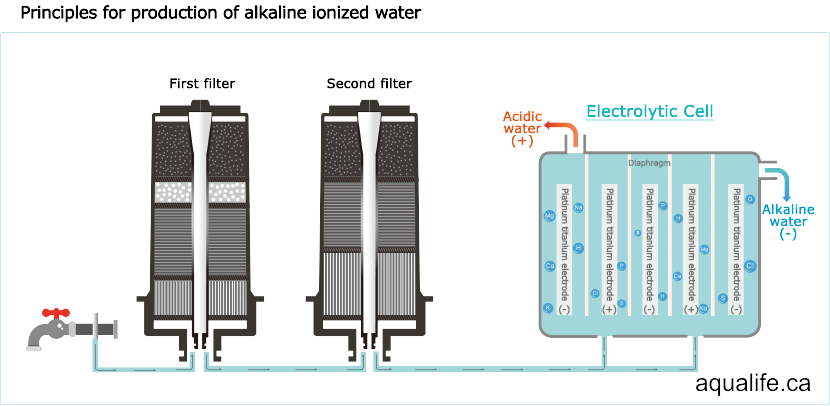 There are 4 properties to the water electrolysis process that allow you to enjoy a better level of health:
During electrolysis, the water molecules are separated into smaller clusters. This way, they penetrate cells more easily and rehydrate your body more efficiently
Water ionization increases its pH level, which neutralizes acid waste and other toxins that accumulate in human cells on a daily basis.
This is a widespread health problem, due to certain harmful lifestyle habits, such as junk food or physical inactivity. Urban pollution also contributes to this problem.
Water ionization reduces oxidation in the body through negatively charged ions. Again, this has the effect of detoxifying the body and bringing many benefits to bodily fluids and other tissues.
4. Electrolysis is also used to create molecular hydrogen (also known as "dihydrogen" or "H2"). It is a powerful antioxidant that slows down the effects of aging.
Take your health to the highest level with water ionization
Accordingly, with the electrolysis of a water ionizer, you can enjoy the benefits of alkaline ionized water at any time. The health benefits are multiples!
Aqualife offers you the best models of ionizers and filters personalized to your needs. In addition, they are easy to use and install in two steps three movements.
Discover the brands offered by Aqualife today; Bawell & EOS Hitech
Take advantage of Aqualife's expertise to achieve your health and wellness goals. You will benefit from a team available 7 days a week to answer your questions and an installation service offered even at the end of the week!
WHAT IS THE ELECTROLYSIS OF WATER (IONIZATION) PROCESS?
Here are the main steps :
1. Tap water is first filtered with one or two water filters that removes several undesirable elements that are often found in the city tap water:
Chlorine
Pesticides
Nitrates
Copper
Heavy metals
Volatile organic compounds (VOCs)
Radon  
Good minerals, such as calcium, iron, sodium, magnesium and potassium, are preserved while bad ones are eliminated. 
2.The pH is then increased. The water becomes more alkaline.
3.Subsequently, negative ions (- ORP) are produced. The acronym "ORP" means oxidation reduction potential » and therefore refers to the potential for reducing water oxidation.
4.Finally, the water is separated into microclusters in order to properly moisturize the body faster.
See this comparison between an ordinary water molecule and an ionized water molecule to see the difference!
Alkaline ionized water products designed for your reality!
For more than 10 years, Aqualife has brought you the benefits of alkaline ionized water with a wide selection of ionizers, filters and pH testers.
Free installation, even on weekends
Prix les moins chers sur le marché
Same day delivery
Telephone service available 7 days a week
Advisory service on the use of your products
Filter #1  for
Lydia 8080
, Lydia 8090,
Genesis 1
(EOS Hitech) Good for 4000 liters. These dynamic filters have been designed for improved water purification capabilities removing 99% of all contaminants. Infused with Silica minerals for anti-aging, detoxification, disease prevention. Silver is impregnated into the Granulated Activated Charcoal to ensure that bacteria does not grow. Activated Carbon Fiber is a highly porous material; therefore, it has an extremely high surface area for contaminant absorption. The equivalent surface area of one pound of Activated Carbon is approximately 150 acres (over 3 football fields)! Under a scanning electron microscope, the Activated Carbon looks like a porous bath sponge. Activated Carbon Fiber is one of the besNt tools that can be used to reduce risks to human health.
IN THE SAME SECTION
Majority have suffered alteration in some form, by injected humour, or randomised words which don't look even slightly believable.
REGISTRATION TO
NEWSLETTER
Stay informed of our latest promotions.
Please note that Aqualife has not conducted a specific scientific study for the facts set out on this page. The information on the site is taken from the web. All information on this website is for reference and for academic purposes only. Purified water (alkaline ionized or acidic) is not a treatment for a medical condition. If you have a medical problem, please consult a health care professional for specialized medical advice. Alkaline wateris simply purified and restructured from tap water (without chemicals or acid molecules). It does not contain any drug substances to cure your illnesses. Ionized water, such as fresh air or good food, helps your general health, but is not a substitute for medical treatment. See your doctor if you have any doubt.