AQUALIFE
THE BENEFITS
OF ALKALINE WATER
Water is said to be alkaline when its pH level exceeds 7 (neutral level) and is enriched with minerals to filter waste and eliminate body toxicity. It is therefore used to reduce acidity and contribute to health and well-being. However, it is important to understand that
alkaline ionized water
differs from alkaline water in several ways.

ALKALINE WATER: A MORE ALKALINE PH, TO PROMOTE A HEALTHY MIND IN A HEALTHY BODY
By maintaining a balanced pH in your body, alkaline water provides several health benefits:
Fortify cells
Detoxify the body
Improve digestion
Strengthen your immune system
Boost physical and intellectual performance
May slow the development of certain diseases, such as cancer
These are some interesting benefits! However, alkaline water is gaining through a process of ionization (electrolysis)to become more efficient.
Why ionize your alkaline water?
During ionization, water molecules separate into smaller clusters, making it easier to rehydrate the body. In addition, pH rate increases further, for better alkalinity and greater antioxidant properties.
To top it all off, the ionization of alkaline water increases molecular hydrogen, which is excellent for reducing premature aging of your body.<
These are good reasons to switch from alkaline water to alkaline ionized water.
Check out this article to learn more.
Beware of bottled alkaline water
Alkaline water bottles have made their way onto the shelves of several store. However, this type of water has very ineffective effects on your health.
Do not mix alkaline water and alkaline ionized water.
What for? Because the hydrogen in this water dissolves after 1 day or 2. It is best to immediately drink the water from your tap, filtered by a water ionizer.
ALKALINE IONIZED WATER: AN ADDED VALUE FOR YOUR HEALTH AND WELL-BEING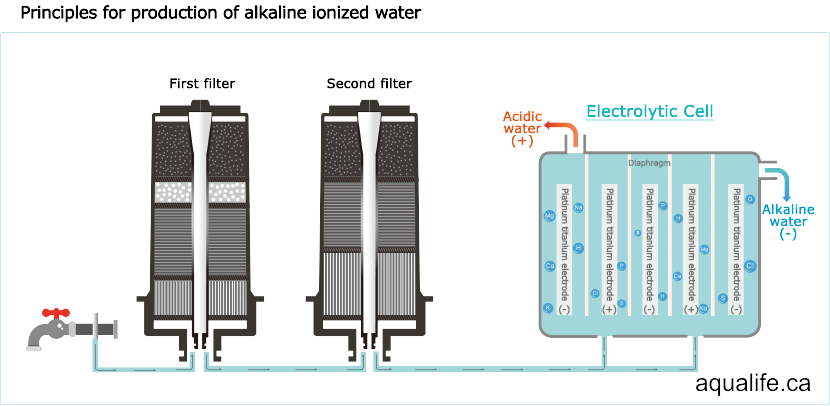 Unlike alkaline water, whose pH is artificially increased with synthetic minerals, alkaline ionized water does so entirely naturally, again thanks to electrolysis.
Another important aspect: alkaline water contains no negative ion (ORP-), which greatly limits its antioxidant properties. It is recommended to drink about 6 glasses of alkaline ionized water per day, with an ORP level of -300, as well as a pH of 9.
Thus, alkaline ionized water maximizes the benefits of alkaline water for all profiles:
Athletes
The elderly
Sedentary people
Pets
Children 3 years and older
Pregnant women (it's even recommended!)
People between the ages of 20 and 65 who want to maintain good health
People wanting to reduce their consumption of plastic bottles
How does a water ionizer work?
AQUALIFE
AVAILABLE PRODUCTS
*** FREE SHIPPING FOR CANADA AND THE USA ***
FREE INSTALLATION FOR ALL BIG CITY OF QUEBEC AND ENVIRONS (For some models only)
The EOS Hitech RIO under sink water ionizer combines discretion, design and adaptability. The perfect model to enjoy the double filtered and invigorating alkaline ionized water.
Thanks to its high quality 9 titanium plates, the RIO guarantees you at all times a water rich in molecular hydrogen (from 1200 to 1450 ppb) and above all, free of any toxicity and unwanted residues. In addition, with its 16 layers double filtration, you can count on water rich in negative ions. And we say "negatives ions" we say "beneficial health effects"!
This exceptional model also contains an SMPS electrical transformer, which efficiently manages electricity consumption during the water ionization process.
REGISTRATION TO
NEWSLETTER
Stay informed of our latest promotions
Please note that Aqualife has not conducted a specific scientific study for the facts set out on this page. The information on the site is taken from the web. All information on this website is for reference and for academic purposes only. Purified water (alkaline ionized or acidic) is not a treatment for a medical condition. If you have a medical problem, please consult a health care professional for specialized medical advice. Alkaline wateris simply purified and restructured from tap water (without chemicals or acid molecules). It does not contain any drug substances to cure your illnesses. Ionized water, such as fresh air or good food, helps your general health, but is not a substitute for medical treatment. See your doctor if you have any doubt.