Whether you prefer countertop or under sink ionizers, you'll find your account with EOS Hitech. Since 2007, this Korean company has provided you with a sleek design, flawless filtration and an outstanding level of performance. With these efficient and ergonomic machines, you'll get a serious boost to achieve your health and wellness goals!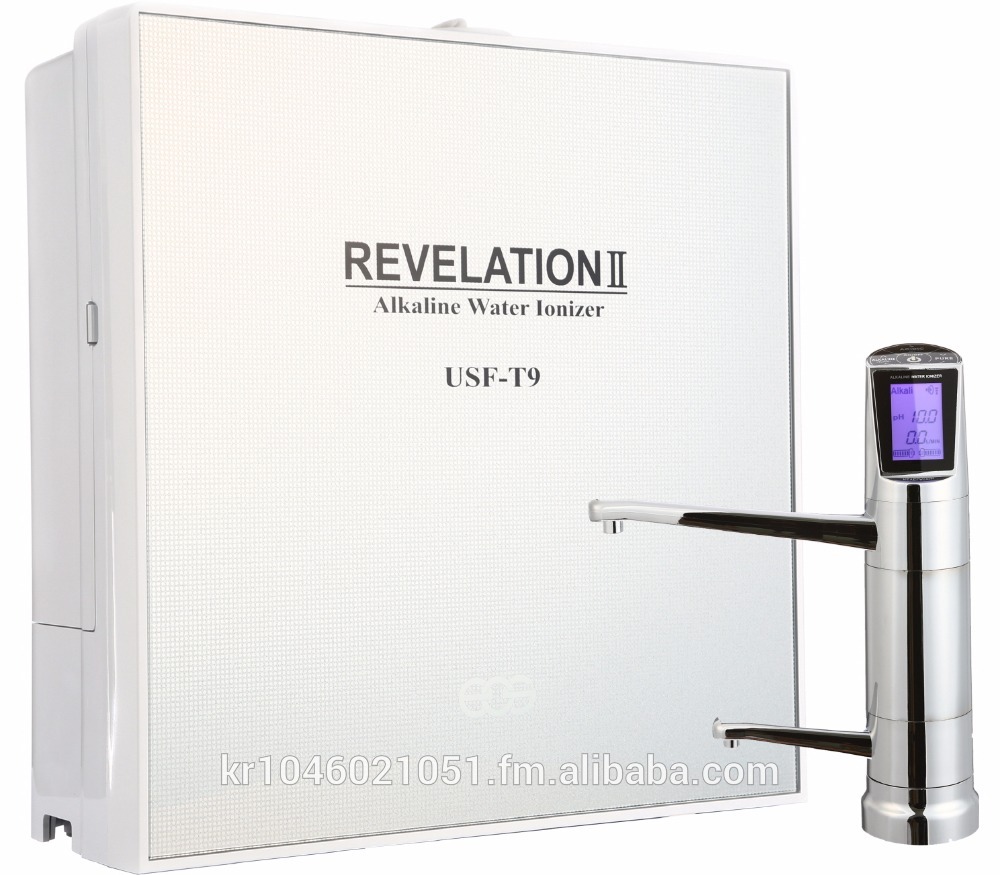 EOS HITECH ALKALINE WATER IONIZERS
These high-end and durable ionizers produce water rich in molecular hydrogen, which allows you to take advantage of a powerful antioxidant to combat the effects of aging. In addition, their TUV certification is a testament to the excellent quality of their parts and components. For example, EOS Hitech ionizers are energy efficient, durable, esthetic and versatile. Learn more about their properties and benefits.
*** FREE SHIPPING FOR CANADA AND THE USA ***
The NEC 901 / JAY 201 countertop water ionizer, manufactured by EOS hitech, produces  alkaline ionized water  rich in molecular hydrogen  (1200 to 1450  ppb) and above all, highly revitalizing.
TUV Certification (High End product)
With high quality 9 titanium plates and double filtration with activated charcoal, the NEC 901 / JAY 101 is a high-end water ionizer, as efficient as it is esthetic. It removes all chlorine and otherharmful residue in water, which a single filter model cannot always accomplish. Indeed, several active layers of antibacterials are present in the filters, which guarantees pure and detoxified water every time.
The NEC 901/JAY 101's double 16 layers of filtration provides additional minerals to your water, in ion form. Consider calcium and magnesium, which are full of health and well-being benefits.
And what about its design ,that  makes it a sleek high-end model, which can easily match all countertops!
In addition, this counter water ionizer can be easily installed in less than 10 minutes without the need for the plumber or you can plug it directly to your cold tap water under your sink with a diverter (not included).
Learn more about this exceptional ionizer, which will meet many of your health goals.
EOS Hitech - NEC 901 / JAY 101
With 9 titanium plates and double filtration with activated charcoal, this countertop ionizer gives you more. Many antibacterial layers are incorporated into its water ionization process, maximizing the purity and alkalinity of each of your sips.
At home or on the go, the NEC 901 / JAY 101 / JAY 201 can be easily transported and integrated into all types of standard faucets.
Plus, with its turbo pH 11 mode, you can do more than just drink alkaline ionized water. Alkaline and acidic water run simultaneously, making it ideal for cooking, cleaning, sterilizing and disinfecting.
Also remarkable is its computer-controlled electrolysis system, which automatically adjusts ionization to suit your needs. In brief, it's a real all-rounder!
Just arrived: the JAY 201 ionizer
The JAY 201 water ionizer gives you the same functionality as the NEC 901/JAY 101, but with a brand new SMPS digital transformer that helps to better manage electricity consumption and stabilize the device's electronics.
"We love to drink this more alkaline and oxygenated water for its many benefits."
-Jacinthe Leblanc –  Boisbriand, Québec, Canada
We moved and changed our counter ionizer for a more efficient model, the tap model (under sink). Thank you Aqualife for the super-fast and free installation service.
EOS Hitech - Revelation II
Here is the under sink high end ionizer with zen design, trendy and timeless.
But the Revelation II is more than esthetic, it also offers an exceptional level of filtration for your alkaline ionized water thanks to its two 16 layers filters with 9 titanium plates, which can reach a pH level above 11.
Revelation II also maximizes the molecular hydrogen content in your water, significantly increasing its health benefits! Installed in less than 30 minutes under the sink, the Revelation II water ionizer will never let you down.
FREE SHIPPING FOR CANADA AND THE USA.
The EOS Hitech REVELATION II under sink water ionizer combines discretion, design and adaptability. The perfect model to enjoy the double filtered and invigorating alkaline ionized water.
Thanks to its high quality 9 titanium plates, the REVELATION II guarantees you at all times a water rich in molecular hydrogen (from 1200 to 1450 ppb) and above all, free of any toxicity and unwanted residues. In addition, with its 16 layers double filtration, you can count on water rich in negative ions. And we say "negatives ions" we say "beneficial health effects"!
This exceptional model also contains an SMPS electrical transformer, which efficiently manages electricity consumption during the water ionization process.
Take advantage of this high end alkaline water ionizer to achieve your health goals.
*** FREE SHIPPING FOR CANADA AND THE USA. ***
The Korean company EOS Hitech  is a global reference for water  ionizers. Just try one of their products to understand why.
TUV Certification ( High End Product)
Among the EOS Hitech ionizers available is the Genesis 1: a countertop water ionizer with full of health and wellness benefits. Choosing this model means opting for the high end at a low price!
5 titanium plates, covered with platinum, as well as 2 active charcoal filters, give Genesis1 the ability to effectively filter waste and toxins, such as chlorine, from your water. This can reach a pH of 10,   in addition of large level of molecular hydrogen (from 900 to 1100  ppb).
To top it all off, the Genesis 1 water ionizer installs in less than 10 minutes on any standard faucet. Not to mention its high-performance electrical transformer, which ensures you good electricity management.
And with more than 15 certifications, you can be assured of a reliable, stable and efficient ionizer. Take it everywhere to enjoy pure, invigorating and fully alkaline water at all times.
The Genesis 1 is an over-the-counter water ionizer that is an excellent entry-level model. Ideal if you want to learn about the benefits of alkaline ionized water at a lower price.
Easily transportable, the Genesis 1 plugs into all taps, making you enjoy its benefits everywhere. It also has 5 titanium plates, covered with platinum, and a double filtration of activated charcoal to reach a pH of 10.
A sure bet for lovers of health and simplicity!
Discover the others Aqualife products
In addition to The EOS Hitech ionizers, Aqualife also offers replacement filters, as well as pH testers to help you make better use of your water ionizer and, most importantly, maximize its lifespan!
Also find out about our Bawell ionizers and our portable model to find the model that works best for you.
Check out our Facebook page to learn more about what's new and about the benefits of your water ionizer.
Alkaline ionized water products designed for your reality!
For more than 10 years, Aqualife has brought you the benefits of alkaline ionized water with a wide selection of ionizers, filters and pH testers.
Free installation, even on weekends
Cheapest prices on the market
Same day delivery
Telephone service available 7 days a week
Advisory service on the use of your products
Filter #1  for
Lydia 8080
, Lydia 8090, Genesis 1 (EOS Hitech) Good for 4000 liters. These dynamic filters have been designed for improved water purification capabilities removing 99% of all contaminants. Infused with Silica minerals for anti-aging, detoxification, disease prevention. Silver is impregnated into the Granulated Activated Charcoal to ensure that bacteria does not grow. Activated Carbon Fiber is a highly porous material; therefore, it has an extremely high surface area for contaminant absorption. The equivalent surface area of one pound of Activated Carbon is approximately 150 acres (over 3 football fields)! Under a scanning electron microscope, the Activated Carbon looks like a porous bath sponge. Activated Carbon Fiber is one of the besNt tools that can be used to reduce risks to human health.
REGISTRATION TO
NEWSLETTER
Stay informed of our latest promotions.
Please note that Aqualife has not conducted a specific scientific study for the facts set out on this page. The information on the site is taken from the web. All information on this website is for reference and for academic purposes only. Purified water (alkaline ionized or acidic) is not a treatment for a medical condition. If you have a medical problem, please consult a health care professional for specialized medical advice. Alkaline wateris simply purified and restructured from tap water (without chemicals or acid molecules). It does not contain any drug substances to cure your illnesses. Ionized water, such as fresh air or good food, helps your general health, but is not a substitute for medical treatment. See your doctor if you have any doubt.